Newsletter, January 4, 2019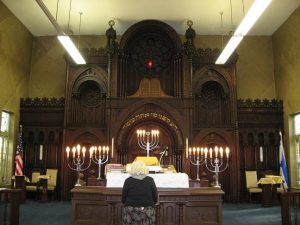 145 Broadway, Newark, New Jersey 07104
973-485-2609
Fax: 973-485-2609
E-mail: cahavassholom@optimum.net
President: Eric Freedman, 201-988-3799
Rabbi: Simon Rosenbach 908-591-4037, rabbisimonlouis@gmail.com
SHABBAT SERVICES STARTING TIME
Please note: services this Saturday morning, January 5, 2019, will start at nine o'clock in the morning. We are going to be short some regulars this week. If you have nothing to do on Saturday morning, consider coming to Ahavas Sholom and help to make our minyan. Your presence will be appreciated by anybody who needs to say Kaddish and you will enable us to read the Torah. Thank you in advance.
WE'RE NUMBER ONE!
"New Jersey Monthly" in the December, 2018, issue, listed the top 12 sacred spaces in New Jersey. By dint of alphabetic order, we are Number One:
small egalitarian Conservative congregation, whose 80 families include a few descendants of Holocaust survivors.
Behind a tall, spiked, wrought-iron fence, the beige stone and red brick building is ennobled by four Corinthian columns flanking its entry. Inside, stained-glass windows dedicated to members long gone line the sanctuary walls.
On this night, 20 members of the congregation chant
Hebrew prayers before the synagogue's massive ark. A masterpiece of intricately carved mahogany with Gothic arches, it was made in the 1870s for a synagogue in Manhattan that later closed. "It's the oldest ark in the state of New Jersey and one of the oldest in the United States," says Robert Steinbaum, an Ahavas Sholom vice president.
During this night's service, Newark gains a new Jew: Tim Lee, a retired journalist and African-American, who has concluded two years of conversion classes. He reads from the Torah for the first time. As he concludes, the congregation responds with an exuberant, "Mazel tov!" "This is like his bar mitzvah," says Rabbi Simon Rosenbach. "We don't usually shout like that after a reading but this was really special."
APRIL MODLINGER WILL HAVE ARTWORK IN A JURIED EXHIBITION
Our own April Modlinger has had a piece of art accepted in a juried exhibition. The exhibition is at the Belski Museum in Closter, New Jersey, 280 High Street, Closter 07624. The name of the exhibition is the Urman-Spinowitz Juried Group Exhibit, and it will run from January 6 through January 27, 2019. Call the museum, 201-768-0286, or consult the website, http://www.belskiemuseum.com/, for the days and hours when you can visit the exhibit.
NEXT EVENT
The Tu b'shvat seder is the next event on our calendar. Tu b'shvat (the birthday of the trees; the Torah decrees that you can't eat from a tree unless the tree is a certain number of years old, so rather than celebrate the birthday of the trees one by one, we have set a universal birthday of the fruit trees, the 15th day of the month of Sh'vat; much like thoroughbred racehorses have a universal birthday of January 1, regardless of when they are born) the birthday of the trees this year starts on the evening of January 20 and continues until evening of January 21, 2019. We will have the seder on the afternoon of January 20, 2019. Keep your eyes peeled for the time.
ADULT BAR AND BAT MITZVAH
We are have settled on March 16, 2019, for the adult bar and bat mitzvah. On that Shabbat, we will start the Book of Vayikra, and it is also the Shabbat before Purim, Shabbat Zachor, where we have a special maftir remembering what Amalek did to the Israelites on their way to Eretz Canaan. Our goal is to have everybody chant at least three verses of Torah and a portion of the haftarah, which is among the saddest stories in the Tanakh. It recounts how God took the kingship from Saul, because he didn't follow the Prophet Samuel's exact directions. Our goal is also to have everybody lead a portion of the service, whether it be the preliminary service (I'm all by myself during the preliminary service, excepting Harold and Fred and Linda and Flora, and maybe a couple of people who got lost on their way to Newark and the ride didn't take them as long as they thought), Shacharit, the Torah service, or Musaf. Don't feel as though as you are obligated to meet the goals; you are not 13 anymore and doing it to please your parents. So come sign up, and we will teach you what you want to learn. Other people have done it before you, and you are as smart and disciplined as any of them. Don't be scared.
We will be meeting next on Sunday, January 6, 2019, at 10 a.m. at Ahavas Sholom. It is not too late to join the group. Indeed, the number of participants was increased by one this past Sunday. But it getting too late.
SPONSORING KIDDUSH
The cost of sponsoring Kiddush is $150, and that barely covers the cost of the lunch. Our goal is to have every Kiddush sponsored, so if you want to mark an event of honor a loved one, sponsor a Kiddush at Ahavas Sholom. If you want to sponsor a Kiddush, e-mail me, call me, call the synagogue, or fax the synagogue. Or e-mail Alla Eicheldinger at Alla7815@yahoo.com. Another thing you can do, which doesn't cost any money, is shop. We have a list, we'll tell what to buy. You get reimbursed. You can contact me or Alla. We welcome all volunteers.
I am sponsoring the Kiddush this Shabbat in memoty of my mother, whose Yahrzeit is the third of Shevat.
DONATIONS
We thank the following people for donations to Ahavas Sholom:
Rosemarie Steinbaum
Amy Schonhaut
Mark Gordon
Jerald Baranoff
EDUCATION FUND
We don't have a religious school at Ahavas Sholom, so if we want to Judaically educate our children, we need to send them to other institutions or hire tutors. We established an education fund about 10 years ago to help parents defray the cost of religious education at other synagogues. For the recent few years the fund has dispersed more funds than were received for that year. We were able to do that because a reserve had been building, which is now mostly depleted. We need to replenish the education fund, and donations to the education fund are another way to honor somebody or memorialize somebody. Maimonides famously said that if a town does not build a school to educate the children, that town deserves to be put under a ban. Members of the congregation who wish to contribute to the education fund please send their checks to the synagogue with the memo line: education fund.
BURIAL PLOTS FOR SALE
We have about 100 burial plots for sale in King Solomon Cemetery in Clifton. If you are interested, contact Eric.
SIMON SAYS
This week's Portion, Va-era, begins with God making God's name, Yod-Heh-Vav-Yeh, known to Moses. In the second verse of the Parashah, God says to Moses, "I appeared to Abraham, Isaac, and Jacob as El Shaddai, but I did not make Myself known to them by my name, Yod-Heh-Vav-Heh."
The evolution of the God of Israel went through many stages, scholars theorize. "El" was a Canaanite god, and was adopted (with a capital letter, although Hebrew doesn't have capital letters) by the Israelites. Indeed, you can see the adoption in the very name Israel: the angel wrestling with Jacob changes Jacob's name to "Yisra-el" because Jacob contended with God.
Scholars lately think that the God named Yod-Heh-Vav-Heh came out of southern Canaan (that is, the Negev region), as evidenced by a tribe that was named Shasu Yhw(h). But one scholar, Nissim Amzallag, a biblical studies researcher at Ben-Gurion University, pinpoints the origin of the God whose name is Yod-Heh-Vav-Heh in the area of the Timna copper mines.
The Timna Valley is about 20 miles north of Eilat, and it
was a rich source of copper. Amzallag theorizes that the god of
Timna was the equivalent the Greek god Vulcan: a god who
symbolized volcanic activity. You can read an account of
Amzallag's theory here:
https://www.haaretz.com/archaeology/.premium.MAGAZINE-jewish-
god-yahweh-originated-in-canaanite-vulcan-says-new-theory-
1.5992072.
Anyway, God tells Moses that God did not reveal the name of Yod-Heh-Vav-Heh to Abraham, Isaac, and Jacob, but see Ber. 32:9, where Jacob addresses God as Yod-Heh-Vav-Heh. In Ber. 15:7, God tells Abraham, "I am Yod-Heh-Vav-Heh who took you out of Ur of the Chaldees." God also uses Yod-Heh-Vav-Heh in addressing humans at Ber. 18:14, and Abraham uses Yod-Heh-Vav-Heh in a place name in Ber. 22:14. Obviously, Abraham and Jacob knew the name Yod-Heh-Vav-Heh, despite God's statement to Moses.
Why does God say God did not reveal God's name to the Patriarchs? Were the Patriarchs lesser men than Moses? The Torah says that never arose a leader like Moses, but Abraham was the first person to recognize God. Isaac was the conduit, and Jacob was the progenitor of the Israelites, without whom Moses would not be leader at all. Rashi acknowledges that Jacob uttered God's name in Ber. 32:9, but no other medieval commentator says a word about it. Not even Rashi acknowledges that Ber. 32:9 is inconsistent with Sh'mot. 6:2 (the second verse of our Parashah). So what can we make of this?
It is possible that the editors of the Torah wanted to elevate Moses above the Patriarchs, but the editors didn't realize they had left Jacob uttering Yod-Heh-Vav-Heh. My guess is that the editors knew that Jacob had uttered Yod-Heh-Vav-Heh, but compromise among the factions that contributed legends, traditions, and histories to the Torah dictated that Jacob be placed on the same plane as Moses, at least to some extent. (Michael Gulder postulates that there was a Joseph tradition, and a separate Jacob tradition [witness the Psalms of Asaph] and when the Torah was finalized they became father and son.)
Is it possible, assuming Moses wrote the Torah on top of Mount Sinai (or another individual, whose name is lost to history, wrote the Torah individually), that God made a mistake? That God forgot that Jacob beseeched God by God's name?
God makes mistakes. God's elevation of Saul to the kingship was one, but God's memory is good. If you are a proponent of single authorship of the Torah, what do you make of the inconsistencies between Sh'mot 6:2 and the references to Yod-Heh-Vav-Heh (not including the use of God's name in the narrative portions of the Torah) in Bereshit?
The medieval commentators address the difference indirectly by saying that the people before Moses didn't understand the fullness of the name. Abraham, Isaac, Jacob, and all of the people who came before Moses didn't recognize the entirety of God's essence, even though God used God's name. (One of the Christian writers whom I discovered had another explanation: Moses wrote the Torah, and he was able to insert God's name appropriately, even though the Patriarchs didn't know the name.)
We discussed last week what a difference a name makes. You probably have heard clergymen say that we worship the same God, no matter what name we use. In Jewish tradition, names of God are very important. When we say Elohim, we invoke the God of justice. When we say Yod-Heh-Vav-Heh, we invoke the God of mercy. So you can either believe that Torah was comprised of strands of legends, histories, and traditions that sometimes were inconsistent, or you can believe that the Patriarchs didn't know the entirety of God. The two beliefs, incidentally, are not mutually exclusive.